Capture and Log Any TCP/IP Data
That's why we are glad to introduce our TCP Logger - full featured software for capturing and logging all data sent via TCP/IP or UDP protocol. For good reason we are proud to name Advanced TCP/IP Data Logger one of the best products for real time TCP data monitoring, processing and storing. See for yourself.
Works Automatically
Once set up, it monitors any TCP/IP or UDP ports and captures, records and exports information sent through them absolutely without your intervention, that is 100% automatically. Whether you want to merely store a log file, or to filter out some data from the entire stream, or perform a real-time data processing through DDE - all of this is possible with this neat TCP port logger, and all of these requires from little to no manual operations.
Professional TCP Data Monitor
Advanced TCP/IP Data Logger is much more than a simple TCP port monitor. It is a full-featured professional utility intended for industrial usage and specially designed to fulfill even the strictest requirements. Do you want to gather data from a terminal server with dozens of RS232 or RS485 devices connected to it? No problem, TCP Logger easily deals with this. Do you want to control a branchy network of industrial sensors, probes and transducers? No problem either. May be you want to interrogate devices over Internet? You know who to ask.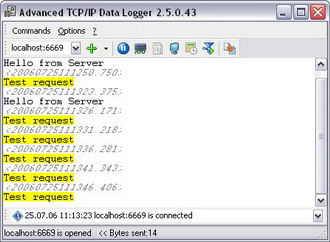 - John Heffernan:
« I wanted to persist with ASDL because it's such a great piece of software! Very easy to set up and flexible - the problems that took the time were to do with the 'black box' we have built! Many thanks. »

Features:
Multiple TCP ports. Capability to log multiple TCP or UDP ports at same time;
Flexible TCP/IP or UDP port parameters. You may select the client or server mode. The UDP server can handle UDP multicast packets. It receives and processes both binary and text data;
Extended logging features. TCP data logging to text or raw binary files. It allows detailed configuration of the log format;
Logs formatting. You can format log files with TCP data by date, size or data type;
Query plugins. Capability to send requests to a remote device to start data exchange;
Parser plugins. Thanks to flexible settings, you can adjust Advanced TCP/IP Data Logger to any task;
Export plugins. The TCP Logger offers a wide spectrum of exporting options. It can export in real-time to any database (MSSQL, Oracle, MySQL, Access), Excel or directly to an application by means of OPC and DDE technologies;
TCP Logger ActiveX. It is an ActiveX component that uses our TCP Data Logger to get either data from a TCP port or already processed and converted data besides the standard export tools in the program;
Versatile Solution. It works under any Windows platform - literally! - from Windows 9x to modern Windows 7;
Service mode. It also is capable of working as a Windows service, which means you can read port data even before the logon occurs;
Our TCP Data Logger supplies several cut down versions. Some versions omit some of the advanced features found in the Enterprise edition and is ideal for users who either want a low cost or free solution or are not interested in more advanced features. Read more here.